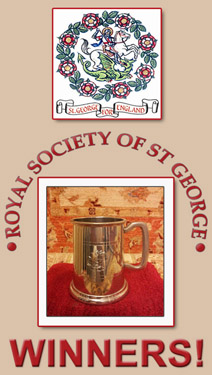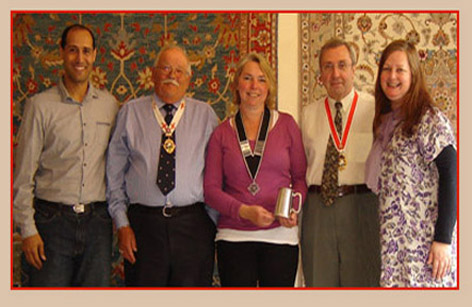 On 23rd April - St George's Day, Anas and Sandre were presented with the highly esteemed award – a silver cup engraved with The Oriental Rug Gallery's winning name – by The Royal Society of St George Haslemere Chairman: Mr Tony Love, accompanied by Haslemere Chamber President: Mrs Julianne Evans and The Royal Society of St George Council Member: Mr Albert Hankers.
"Sandre and I are very honoured to accept the Winner's Cup for The Oriental Rug Gallery, having been runner's up the previous year. It is an important recognition of our passion and continued hard work to create a unique and eye-catching St George's Day window display each year, while acknowledging the efforts made by all the businesses and shops in Haslemere and the surrounding districts, who have participated in this annual event and made it such a success over the years," said Anas.
"Praise must also go to The Royal Society of St George and the Haslemere & District Chamber of Trade and Commerce, in co-presenting an excellent and creative opportunity for us all to support the Society's endeavours, and to ensure that St George's Day is properly celebrated in England, while creating a much anticipated visual highlight in the Town's Events Calendar that is enjoyed by all the community," said Sandre.