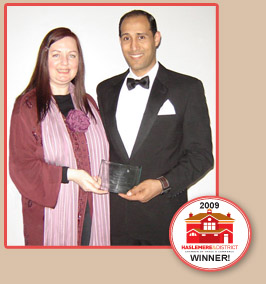 Anas and Sandre were presented with the Award by the newly-elected Haslemere Chamber President Melissa King at the annual Haslemere Chamber Business Awards Presentation evening, held at Branksome Place. Here members' attendance was the best ever for this event, with a packed out venue to celebrate Haslemere businesses' winning achievements, eager to see the presentation of the Awards, with the lineage of ALL past Chamber Presidents attending the occasion.
"We thank the Chamber for recognising our independent company's specialist rug skills and achievements as Winners of this Award, and with it the opportunity to showcase our British company among the Town's other successful businesses and crafts people," said Anas.
The Oriental Rug Gallery was subsequently chosen to act as Sponsors and Presenters of this Haslemere & District Chamber Award award in 2010/11.