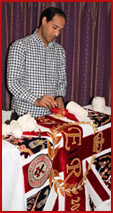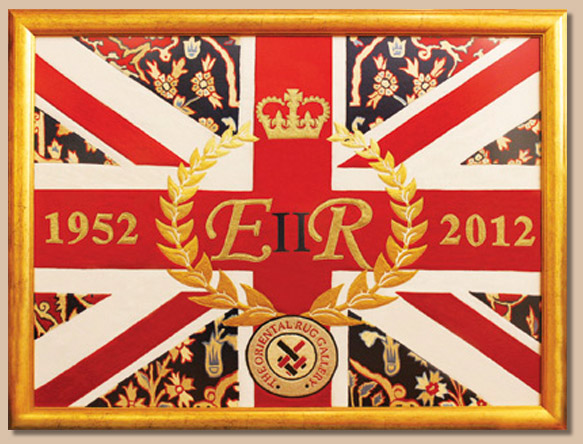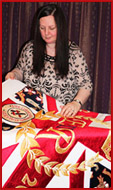 As fourth-generation Rug Specialists and Master Rug Craftsmen, The Oriental Rug Gallery Ltd is passionate about supporting and keeping traditional rug-weaving and embroidery-crafted skills alive, with this bespoke commissioned embroidery and previously with their Haslemere Coat of Arms Rug Weaving.
Each piece, in the hundreds of beautiful, hand-woven weavings individually sourced by Anas and Sandre from the Silk Road Rug regions that adorn The Oriental Rug Gallery Ltd's interiors, is created in a unique moment of weaving history, time and place, ensuring its legacy as a treasured piece of craftsmanship.

Galvanised by the forthcoming Royal Jubilee occasion, Anas and Sandre – through their passion as skilled artisans – wanted to capture the pomp and regal splendour of Her Majesty's Diamond Jubilee Commemorations and portray this rich legacy of Royal heritage.
Here, Anas and Sandre were inspired to create a bespoke-crafted embroidery to encapsulate the Queen's 60-year reign, through using an eclectic mix of threads, textures, colour imagery and motif symbolism in its design, while showcasing an array of traditional and specialist embroidery techniques. They wanted to create a bespoke embroidered piece that would encapsulate 'moments threaded together' of the Queen's 60-year reign, where the embroidery blended Crewel work and Gold work – centuries-old, specialist embroidery techniques.
You can read all about the Her Majesty The Queen's Diamond Jubilee Embroidery journey – from conception to completion, and its subsequent Honorary Unveiling and Presentation, on its dedicated web page at: Her Majesty the Queen's Diamond Jubilee Embroidery.