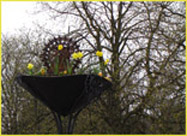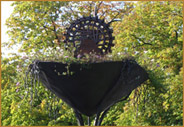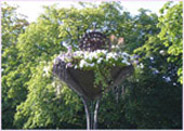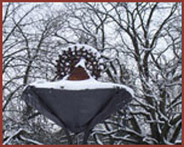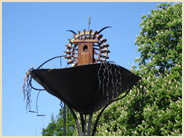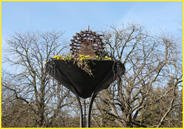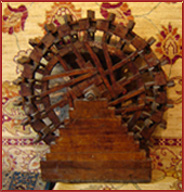 In January 2010, on hearing from Councillor Carole King and plant designer Georgina Trout of the Wey Hill In Bloom Committee – a voluntary organisation dedicated to highlighting the area of Haslemere, with hand-planted floral displays – that they were searching for an iconic feature to be installed at Hasleway to represent the 'Shottermill' area, Anas and Sandre offered to source a unique piece for the display, in keeping with the requested 'mill' theme.
Six months later, during one of their many rug sojourns - while sourcing unique weavings for The Oriental Rug Gallery Ltd's rug, oriental carpet and tapestry collections - Anas discovered and purchased a previously-working, hand-carved, oak water-wheel, originally from Hama in Syria that perfectly suited the 'iconic feature' brief. Such was its size, weight and shape, the captain of the aircraft offered to personally store the hand-crafted piece in the flight cabin for the entire journey home, to ensure its safety!

Anas and Sandre have long supported Wey Hill in Bloom (WiB) from its earliest beginnings. From helping to plant out the twice-yearly bulbs and plants in the planters and hanging baskets and attending regular meetings, to making annual monetary donations and helping to water the planters in Wey Hill. So, with this unique Water Wheel find, they were thrilled to be able to gift Wey Hill In Bloom with a genuine and lasting legacy of their support.
Now installed, they hope this eye-catching original feature will create an interesting focal point at Haslewey in Wey Hill, for the people of Haslemere and its community to enjoy.
As the Seasons turn, the Water Wheel and its surrounding floral displays are heightened in relief with the beautiful backdrop of trees on Lion Green.