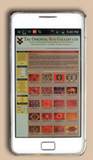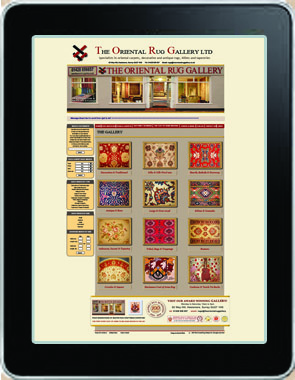 Our web pages are designed, to offer our customers and website visitors, details and information about The Oriental Rug Gallery Ltd's treasure-trove of beautiful weavings and our Rug Specialist, Rug Dealer and Master Rug Craftsman skills and expertise.
About Us: weave's the warp and weft of our family's 100-year-old rug specialist business, here you can read all about our Rug Specialist and Master Rug Craftsman skills and expertise, as well as our creative design and decorative arts passion for all things woven and embroidered and see our Rug Gallery shop premises before your visit.
Rug Services: undertaking a full range of professional and expert works and services including: Rug Repairs, Rug Restoration, cut-to-size Rug Alterations, Deep-wash Rug Cleaning, Rug Stain Corrective Treatments, as well as our insurance-approved Rug Written Valuations, Anti-Slip Rug Underlay, Rug Viewing and Collection and Return Delivery Services. All works and services are undertaken here, in the Gallery's custom-built Restoration and Cleaning Studios ~ all under one roof!
Rugs and Carpets: weaves together an up-to-date selection of the hundreds of beautiful hand-woven rugs, oriental carpets and tapestries in stock that await you either to purchase online - using paypal, or at The Oriental Rug Gallery Ltd's stunning and spacious rug shop premises in Wey Hill, Haslemere, Surrey.
Presented as 12 categories on the 'Rugs and Carpets Gallery' landing page, each category features a selection of our rugs available. Browse our online collections of Decorative & Traditional weavings, Silks and Silk-Wool mix carpets, Hearth, Bedside & Doorway rugs, Antique & Rare pieces, Large & Oversized carpets, Kilims and Soumaks, Aubusson, Suzanis & Tapestries, Tribal, Bags & Trappings, Runners, Circular and Square rugs, Traditional With A Twist! rug collections, as well as our specifically-sourced collections of exquisitely hand-woven and embroidered cushion soft furnishings, designed to complement your home interiors.
HM the Queen's Embroidery: celebrating Her Majesty, Queen Elizabeth II's 60 years of Sovereign reign and to commemorate the Diamond Jubilee in 2012. Join us on a journey, as we design and create a bespoke embroidery especially commissioned as a 'Gift for The Queen'.
The Coat of Arms Rug Weaving: where a visual journey of 800,000 rug knots awaits you, as our creation of the UK's first-ever hand-woven and rug-knotted Coat of Arms Rug Weaving unfolds. Here, more than 1,600 people participated by hand-weaving a rug knot into the piece, where this Rug Weaving took two years to create and was gifted to Haslemere Town upon completion. The Haslemere Coat of Arms Rug Weaving is now on permanent display at Haslemere Educational Museum, who are the chosen Custodians of the piece in perpetuity, for and behalf of the town.
G-Blog: highlights our Rug Gallery news, awards, features and events, where Anas and Sandre share their rug weaving passions, award-winning specialist rug skills, knowledge, their expertise on how to enjoy your pieces of woven artistry, as well as articles detailing the Rug Gallery's participation, support and active involvement with rug-related and community-based events and projects.
Contact Us: details our Rug Gallery's location address and contact information, along with route maps and directions on how to visit us here in Haslemere, by car and train. This directional information can also be downloaded and/or printed out as A-4 sized sheets, by clicking on the pdfs listed on the page. For ease of access our webpage, our Rug Gallery's contact details are displayed in the footer bar, situated at the bottom of every web page, where you can click on our email address link to send us a message instantly.
Links: offer information about the company's and businesses that have used their skills and crafts in a working collaboration with The Oriental Rug Gallery Ltd, to help sponsor, support and promote our weaving endeavours.