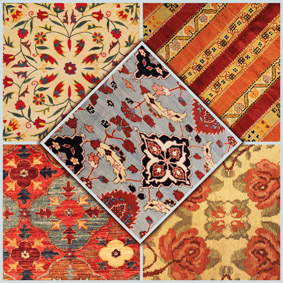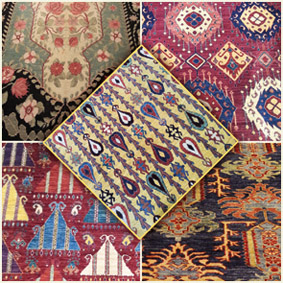 With no two weavings alike and all individually-sourced by Anas and Sandre from the various Silk Road Rug Regions, these stunning Antique, Old and New hand-woven pieces abound with unique and original motifs, striking designs hand-woven in soft, muted or vibrant colourways.
Ideal for adorning living- and drawing-room interiors, hallways, bedrooms, boudoirs, snugs and fireplaces, these stylish Rug Masterpieces will ensure your home makes an individual statement!
Be they flatweave kilims, embroidered sumaks, knotted pile rugs and Oriental carpets, each piece is traditionally woven with silky-soft yarns in natural dyes, making their practicality, durability and good quality are guaranteed.
All weavings can be viewed in person at The Oriental Rug Gallery Ltd's shop established in Wey Hill, Haslemere.
Alternatively, you can view our Traditional With A Twist! Rug Collection, featuring a selection of our latest pieces, on our website, where you can choose from a treasure-trove of beautifully-crafted weavings currently in stock.