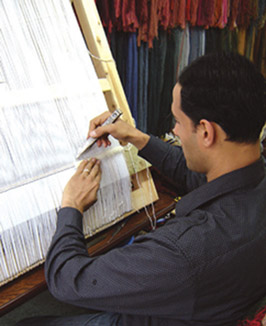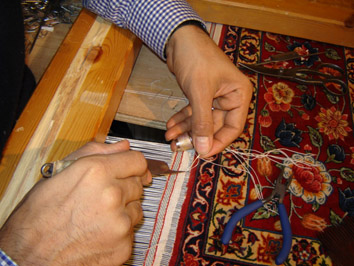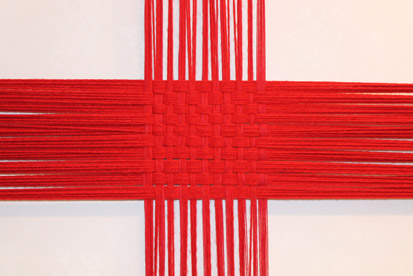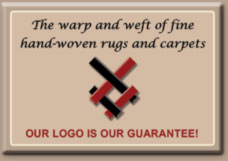 Initially conceived by Anas, Sandre's creative brief was to design a stand-alone company logo that would not only reflect their passion for all things hand-woven, but also be a visually eye-catching yet simple design that was central to their hand-woven rug and carpet business.

With this in mind, Sandre produced several sample layouts for consideration. They decided on a simple red and black design, where the form represented an inter-weaving of a warp and weft thread construction, that forms the core 'foundation' of the weave for all hand-woven (hand-knotted) rugs, carpets and tapestries being created and, to a certain extent in varying formats, for hand tufted or machine-made rugs.

For hand-woven or hand-knotted pieces,the warp threads are first securely attached vertically to a wooden-framed rug loom. Next, depending on the 'type' of weave, the weft threads are woven or knotted vertically across these warp threads usually from right to left and beginning from the bottom of the weave's design and the rug loom to be woven upwards.

The types of hand-woven weaves vary. Kilims, Soumaks and Aubussons, are categorised as 'flatweaves', where the weave is constructed without a rug knot or pile. Here, weft threads are interwoven in a continuous, unbroken line from right to left of the weave across the warp threads. While a 'pile' or 'knotted' weave consists of a row of individually knotted threads woven across the warps, alternating with row(s) of continuous weft threads woven in-between. Once secured, the rug knot thread is cut off to create the pile, which is then sheared down, once the weaving or restoration is complete. Sofra's – hand-woven square-shaped pieces, originally woven as decorative table coverings – combine flat and pile weave techniques to give a rich and interesting textural definition to the overall design

A sample of an inter-woven warp and weft construction can be seen (see above left) in the recent St George Flag Window Display design that Anas weaved for April 23rd's 2012's celebrations. Also, in his 'setting up' of a traditional rug loom (see below left) on which he hand-weaved and rug-knotted the Haslemere Coat of Arms Weaving.
''
Similarly, when restoring a piece, Anas will attach the rug or carpet – either by its present warps threads or by a specialist warp re-threading technique – to one of his specially constructed, wooden restoration frames. Here, a pile weave carpet (see left) was brought to Anas for restoration, with a worn kilim cotton-frayed edge that had disintegrated in places along the fringe ends, leaving the rug-knotted wool pile exposed and unravelling from the warp foundation.

For a more detailed visual explanation of how a hand-woven rug is constructed, please see The Coat of Arms Weaving page, where Anas has hand-woven and rug-knotted Haslemere's Coat of Arms – the UK's first-ever Coat of Arms rug weaving.