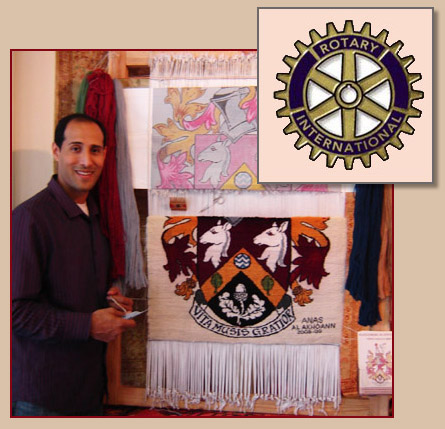 Rotary Club President Gordon Exeter introduced Anas and Sandre to the Rotarian members at the evening's packed out event, with members Phil Steadman and Rae Boxall hosting the occasion.

Anas and Sandre gave an in-depth, illustrated Talk on the cultural heritage of hand-woven rugs, carpets and tapestries, followed by rug conservation, cleaning and restoration to an avid audience.
Members were also given the opportunity to participate in the 'Haslemere In Stitches Open Weave' event, by hand-weaving their rug knots into the Coat of Arms Weaving and subsequently receiving personalised 'Certificates of Weave' in recognition of their achievements. The Weaving had been transported to The Georgian House Hotel from the Gallery – complete with its traditional rug-weaving loom – especially for the event.