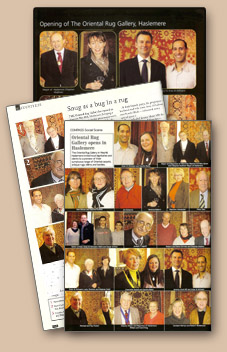 "Thank you for coming to our Town, with your beautiful Oriental Rug Gallery and your Rug Specialist, Master Rug Craftsmen and Decorative Art skills. We have all watched in anticipation, as you have transformed this building into the stunning Rug Gallery it is today, complete with its custom-built Repair & Restoration and Cleaning Studios, where we all look forward to supporting your future endeavours. On behalf of us all, I would like to say 'Congratulations' and formally 'Welcome' you to Haslemere," said Haslemere Mayor Cllr. Stephen Mulliner, in the presence of attending VIP guests.
Later, the Rt Hon Jeremy Hunt MP for South West Surrey also dropped by during his busy schedule, to add his congratulations and support to Anas and Sandre, at the newly launched The Oriental Rug Gallery Ltd: "Congratulations on the opening of The Oriental Rug Gallery Ltd – a masterful achievement. Haslemere, and indeed Surrey, is honoured to have your Rug Specialist skills in residence, where we wish you the very 'Best of Success' with your future endeavours," said the MP.
Meanwhile, the Surrey-wide Media and Press were in attendance at the Opening Preview to record the day's event and offer their readers a visual taster of the opulent, hand-woven rugs, carpets and tapestries now available in Haslemere, as the The Oriental Rug Gallery Ltd threw open its doors.