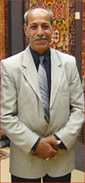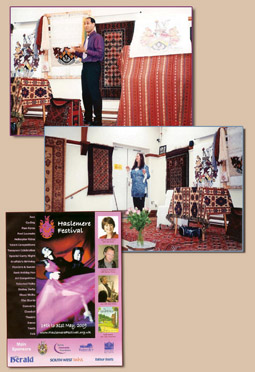 The Rug Gallery's sell-out Festival event was held on Wednesday, 27th May and began with opening introductions given by Mayor Melanie Odell and former Mayor, Councillor Fay Foster CBE to attending guests. Both praised the couple's ongoing commitment and endeavours in sharing their rug knowledge and decorative arts passion at The Oriental Rug Gallery Ltd with their customers and through their Haslemere Coat of Arms Weaving events: Open Weave and Schools In Stitches, also held at The Oriental Rug Gallery Ltd in Wey Hill, Haslemere.
Afterwards, Anas and Sandre gave an animated and illustrated, two-hour Talk on the cultural heritage of hand-woven rugs and tapestries and the Journey of the Haslemere Coat of Arms Weaving to a packed auditorium at the Museum. The rapt audience were also given the opportunity to participate in the 'Haslemere In Stitches Open Weave' event, by hand-weaving their rug knots into the Coat of Arms Rug Weaving and subsequently receiving personalised 'Certificates of Weave' in recognition of their achievements. The Rug Weaving had been transported to the Museum from the Rug Gallery – complete with its traditional rug-weaving loom – especially for the event.
Anas's father – a third-generation Master Rug Craftsman of the family's 100-year-old rug business – flew in from Damascus for the event and other rug seminars taking place in London, where he was to be the Guest of Honour. He was introduced to those attending the Haslemere Festival Talk event by Madam Mayor Cllr. Melanie Odell as the event's 'Special Guest'.
As well as being a highly respected Rug and Carpet Specialist, Dealer and Master Craftsman, Anas' father is also the former Director of the family's Ajami Rug Gallery – although now officially retired, and was previously a long-standing Middle East Chamber of Business & Commerce Merchant Member. Notwithstanding, he continues to travel sharing his knowledge and years of experience in the hand-woven rug and Oriental carpet field, with those eager to learn Rug Lore from a long established and upstanding Master of the Rug Craft.