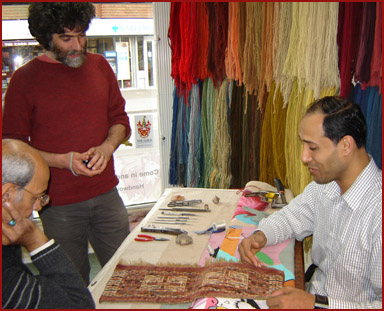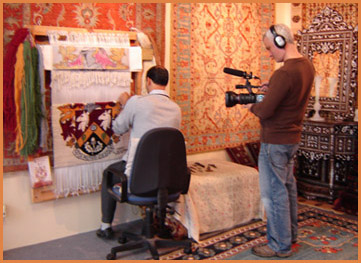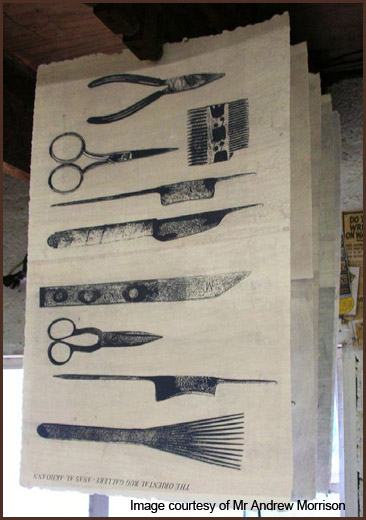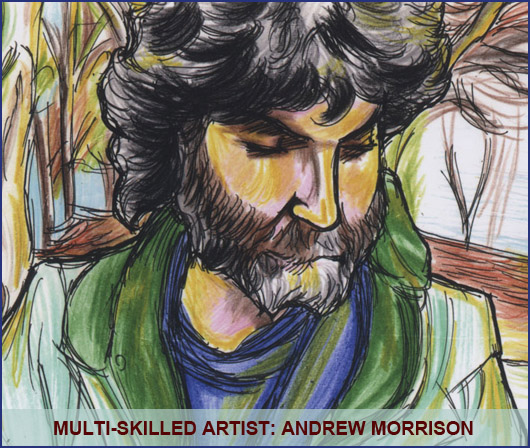 Andrew is a multi skilled Surrey-based artist whose work combines a love of poetry and typography with visual arts and printmaking. He studied illustration and printmaking and for many years combined days of creating his own prints and books, with workshops, lecturing and working on community arts projects. He likes to use imagery that comes in varying forms from the local environment. Every place has its specific qualities: the names of its roads; its pavement surfaces; the lettering that identifies its shops; the visual traditions that make a 'location', and he tries to use these particularities in developing and making craft.

For the Haslemere Toolbox project, Andrew meticulously catalogued a variety of tools through sketches, photographs and stories, including Anas' Master Rug Craftsman hand-turned tools used for repairing and restoring clients' rugs and currently for hand-weaving the Haslemere Coats of Arms on a traditional rug-weaving loom.

Next, through a series of wooden stencils of his initial drawings and a variety of print-based techniques, the artist produced a collection of hand-made prints. These prints were subsequently collated and later launched as a limited edition of hand-bound books that captured a small slice of social history and celebrated Haslemere, its people and its businesses. One of these exquisite hand made books is now on display at Haslemere Educational Museum, as a legacy of this project.

After The Haslemere Toolbox project ended, Andrew the artist, presented Anas and Sandre with a signed, original, hand-made print of their rug repair tools of trade, which has now been framed and mounted and takes pride of place in The Oriental Rug Gallery Ltd's Restoration and Repairs Studio.

Inspired by the exquisite craftsmanship of the Damascene Mother-of-Pearl furniture displayed in The Oriental Rug Gallery Ltd and Anas' long apprenticeship as a Master Rug Craftsman, Andrew's next project is to visit Damascus, Syria on a 'Tools of the Craft Trail'. Having been granted funding for this creative journey from Farnham Maltings, Andrew will be meticulously recording local craftsman at work in producing hand-painted tiles and furniture, through a series of sketches. On his return to the UK, he will create a series of prints documenting his explorations as an exhibition.

To coincide with The Haslemere Toolbox Creative Communities project, a short film was made by Pursued by a Bear Productions also based at Farnham Maltings. The film features Anas hand-weaving and rug-knotting the Haslemere Coat of Arms weaving at The Oriental Rug Gallery Ltd using his Master Rug Craftsman tools of trade, which was then previewed at the launch event, before going on tour Surrey-wide.