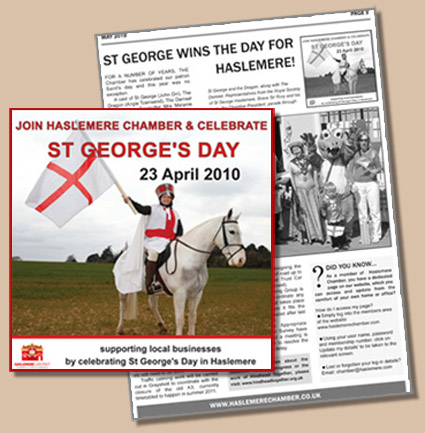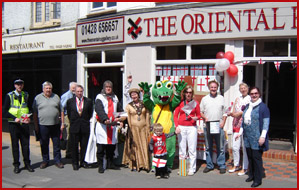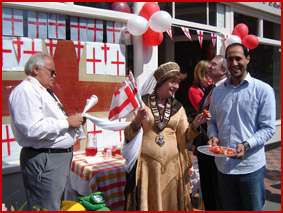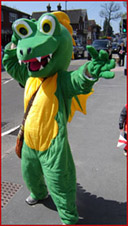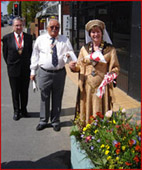 The Oriental Rug Gallery Ltd's annual red and white-decoratively themed festive rug shop interior continued, with the exterior of their shop premises appropriately decorated with red and white-coloured balloons, ribbons and St George Cross bunting, to create a welcoming and celebratory atmosphere in Haslemere.
No St George's Day Celebrations at The Oriental Rug Gallery Ltd are complete, without Sandre and Anas' decorated table laden with platters of drinks and specially prepared nibbles set out in front of their Rug Gallery shop – all ready to warmly welcome the gatherings of the Royal Society of St George Haslemere President, the Haslemere & District Chamber President and their associated members and supporters, during the annual St George and The Dragon processional walk in and around the town.
This year was the largest gathering yet and included: The Royal Society of St George Haslemere branch Chairman Mr Tony Love, Society Council Member Albert Hankers, St George, and the Dragon, with the Maiden: Madam Mayor Melanie Odell, Haslemere Chamber President: Melissa King, who were joined by Surrey Police, the Wey Hill in Bloom (WiB) President and its Treasurer: Councillor William King, WiB plant arrangers: Georgina and David Trout and WiB volunteers, who were present to highlight the organisations activities in the area, where planters and hanging baskets and their vibrant floral displays lined the processional route.
Meanwhile, Sandre, a Haslemere & District Chamber Committee member was nominated to highlight St George's Day in Stop Press! the Chamber's magazine that she edits and designs for members. For 2010, she created an advert for the event showing St George astride his white charger, encouraging members to get involved with the Day's activities, to great effect.