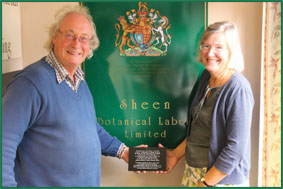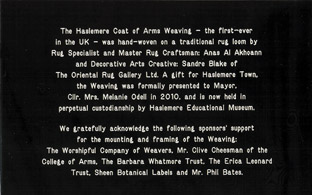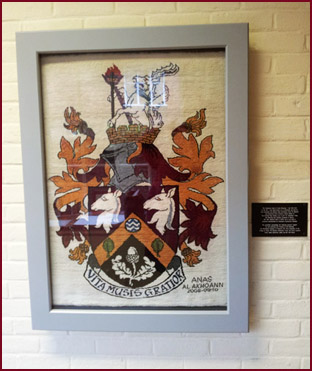 The engraved plaque was generously gifted by Christopher and Carmen Ashton Jones having been created in-house at their company Sheen Botanical Labels Ltd, based in Haslemere and founded in 1990. The company, which hold a Royal Warrant granted by Her Majesty The Queen, are specialists in supplying bespoke, hand-engraved labels for a variety of uses including: Royal palaces, stately homes, botanical collections, as well as art and sculpture installations and exhibitions, where elegant and clear information needs to be displayed.
The Haslemere Coat of Arms Weaving's creation was originally conceived by Anas and Sandre of The Oriental Rug Gallery Ltd. Where, inspired by the Coat of Arms motto: Vita Musis Gratior – 'Life is more satisfying through the Muses or arts', they chose to hand-weave and rug-knot the Haslemere Coat of Arms in wool and silk on a traditional rug loom, to celebrate the forthcoming 100-year centenary of the family rug business established in 1910, and gift the completed piece to Haslemere Town. Their ultimate objective was to produce a beautiful, hand-crafted piece that interwove an iconic aspect of Haslemere's historic and cultural heritage, with artistic as well as structural integrity.
As well as a shared passion for all things hand-woven that is The Oriental Rug Gallery Ltd, Anas and Sandre's long-held, creative vision is to establish a philanthropic legacy of bequeathed woven and embroidered artworks. Thereby creating and producing works of decorative beauty that not only inspire, but also serve to highlight the preservation of heritage through traditional craftsmanship skills and, in doing so, create a rich and vibrant legacy for future generations to enjoy.
Sheen Botanical Labels Ltd, along with The Worshipful Company of Weavers, Mr Clive Cheesman – the Richmond Herald of the College of Arms,The Barbara Whatmore Trust, The Erica Leonard Trust, and Mr Phil Bates, were Sponsors for the mounting and framing of The Haslemere Coat of Arms Weaving, to help preserve the piece in good condition and to support its permanent installation at the Museum, where Christopher Ashton Jones is also a valued Trustee. A Mayoral Inauguration Ceremony saw the weaving installed at the Museum once the mounting and framing were completed, with the Sponsors attending the occasion.
This Coat of Arms Weaving is the first-ever rug-knotted weaving of its kind in the UK, where nearly 2,000 people world-wide visited The Oriental Rug Gallery Ltd, to participate in its creation by weaving a rug knot into the piece.
You can read all about the Weaving's journey – from conception to completion in 800,000 rug knots and its subsequent mounting, framing and installation – on its dedicated web page: The Haslemere Coat of Arms Weaving.