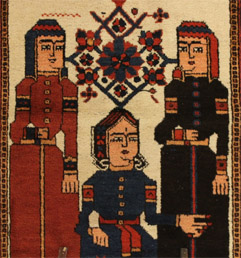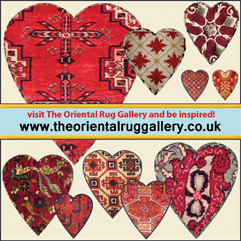 Award-winning rug specialists, The Oriental Rug Gallery Ltd in Wey Hill, Haslemere stock a visual feast of beautiful hand-woven rugs and carpets. Choose your legacy of love from the hundreds of rugs arrayed to adorn fireplaces, snugs, living room and drawing room interiors, hallways and bedrooms. All The Oriental Rug Gallery Ltd's hand-crafted masterpieces are woven in a variety of warm, muted or vibrant colourways and designs and in a range of sizes. Their practicality, durability and good quality are guaranteed, which every Mum will appreciate.
For imaginative gifts and inspirational ideas this Mother's Day, and with hundreds of individually sourced 'signature' pieces to choose from, come and explore The Oriental Rug Gallery Ltd's collections of finely woven Persian carpets, antique and rare rugs, luxurious silks, traditional and decorative rugs, authentic kilims, finely woven aubussons and sumaks, as well as quirky, eye-catching tribal trappings – all in stock at the shop premises in Wey Hill. Alternatively, you can visit The Oriental Rug Gallery Ltd's easy-to-use rug website via your computer, tablet or smartphone, where all rugs in stock are displayed!
As fourth-generation Master Rug Craftsmen, all rug and oriental carpet services are undertaken in the Gallery's studios including expert repairs, restoration, alterations, professional deep-wash cleaning, stain removal, durable anti-slip rug underlay, insurance-approved written valuations, a rug and textile wall-hang technique and collection and delivery offered. It's all under one roof for Mother's Day gifts at The Oriental Rug Gallery Ltd!
To view the unique and rare antique Baluch rug (left), portraying three tribal women celebrating the marriage of the daughter (inset middle) in more detail, click the link to take you to its gallery page: http://www.theorientalruggallery.co.uk/gallery/product/rg1139-antique-baluch-rug