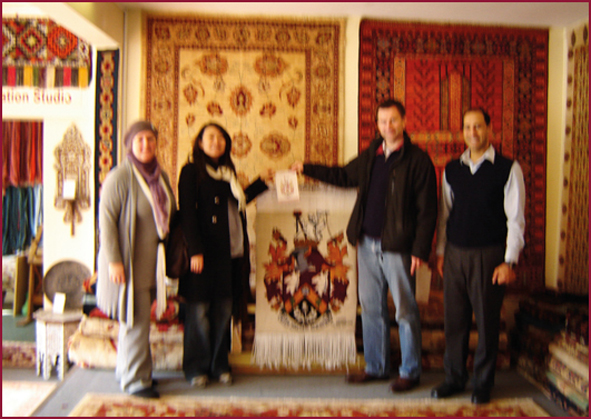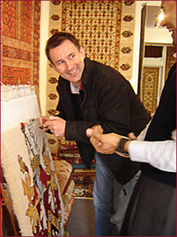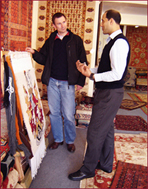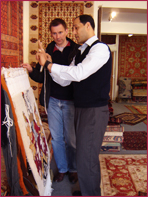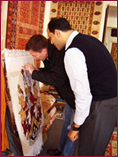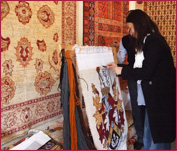 Mr Hunt had personally requested an appointment to visit Anas and Sandre during their Open Rug Weave Event to add his rug knot into the piece, after initially hearing about the Coat of Arms Rug Weaving's proposed creation by Anas, during one of his previous visits to The Oriental Rug Gallery Ltd.
Due to a busy schedule as South West Surrey's MP, Mr Hunt's VIP Visit was initially planned several months in advance, where Sandre liaised with Jeremy's office to set a date.
As a seasoned visitor to The Oriental Rug Gallery Ltd, Jeremy Hunt MP was warmly welcomed back by Anas and Sandre for this VIP special occasion, accompanied by his lovely wife Lucia. During their visit, Jeremy and Lucia listened to Anas and Sandre explaining about the rug weaving's origins and its creational progress, while they enjoyed refreshments.
Afterwards, the couple asked questions about the piece and were interested to learn of Haslemere's weaving heritage, where Jeremy highlighted Godalming's wool history and related Coat of Arms insignia, having been educated at the nearby Charterhouse School.
It was now time for Jeremy and Lucia to add their rug knots to the weaving, where Anas explained the rug knot process and demonstrated the knotting technique. Jeremy was invited to choose an area of the Coat of Arms to add his knot (see images left).
After successfully completing their rug knots, both Jeremy and Lucia received Certificates of Weave from Anas and Sandre for their participation in the event and marking their rug knot placements among the many thousands of knots involved in the weaving's creation. The couple were also delighted to learn that they were the 1,449th and 1,500th visitors respectively, to participate in the UK's first-ever Coat of Arms Rug Weaving creation at The Oriental Rug Gallery Ltd. Later that week, Jeremy Hunt highlighted his rug knot weaving visit in a blogged article on his website.
"We feel very proud and honoured that Jeremy Hunt, as South West Surrey's MP, managed to take time out of his extremely busy work schedule to personally visit our Rug Gallery and participate in being part of Haslemere's heritage rug weaving. It was also a wonderful opportunity to be personally introduced to Jeremy's charming wife Lucia, where we appreciate their support in our rug weaving's endeavours," said Sandre.
"Always a pleasure to see Jeremy, where he and Lucia's rug knots were extremely good and their participation has added another cultural dimension to the piece," said Anas.