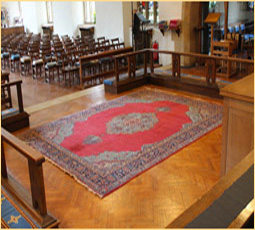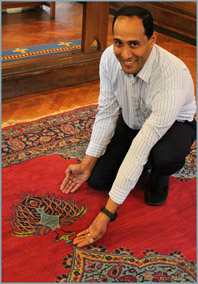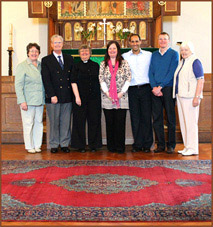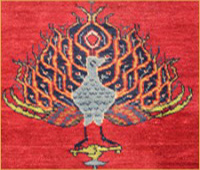 Intrigued to learn more about St Christopher's unique and beautiful Arts and Crafts listed interior, Anas and Sandre were offered a guided tour by Church Wardens: Robert Fox, Clive and Liz Hawkins and Frankie Gaiter. A fine example of the Arts and Crafts Movement, this historic Church, situated in in Wey Hill, Haslemere, was once described by former Poet Laureate Sir John Betjeman as "the most beautiful building of its age in the Town" where the Church become one of his favourite destinations, when visiting Haslemere.
During the tour, Anas – The Oriental Rug Gallery Ltd's fourth generation Rug Specialist and Master Rug Craftsman – was keen to assess a hand-woven carpet displayed on the Chancel's parquet flooring. Using his rug expertise and specialist knowledge in antique and rare pieces, Anas identified and confirmed the piece to be an antique, Persian Tabriz carpet, hand-woven with a wool pile in natural dyes including Madder Root, Indigo and Saffron, and dated the carpet to the 1890s, making it over 100 years old. The carpet design detailed two rare peacock motifs – a Persian multi-faceted symbol of integrity, spirituality and royalty – amid a Paradise garden setting, to the delight and amazement of everyone present.
Seeing how dust-worn and lifeless the carpet looked, Anas volunteered The Oriental Rug Gallery Ltd's revolutionary RugRescue™ system – a 10-step, deep-wash cleaning and dusting process and applied stain corrective treatment works, to revive and condition this rare piece, in order to conserve its weave and restore its original lustre. These rug cleaning works were offered as a Gift for the Church by The Oriental Rug Gallery Ltd, to help preserve this weaving within its listed and historic interior.
The Oriental Rug Gallery Ltd also volunteered to collect and return deliver the carpet to the church and provide a durable, anti-slip rug underlay to help preserve and protect the carpet's underside foundation and prevent slippage, once it was cleaned and returned. And, in keeping with the Church preserving its decorative arts heritage and weaving craftsmanship displayed in its listed interior, Anas formally identified the carpet's provenance, age and type with a professional, certified Written Rug Valuation, produced by The Oriental Rug Gallery Ltd, for heritage archiving and recorded documentation purposes.
Layers of candle wax, ingrained dust and dirt that had built up over years of use were carefully removed from the carpet during the Rug Gallery's intensive 10-step RugRescue™ cleaning process, which took approximately two weeks to complete, where the piece was handled carefully. During the process, Anas combined his families' age-old and traditional, eco-friendly rug-wash formula, with the Rug Gallery's specially devised rug cleaning equipment, to pre-heat, then de-dust and deep-wash the carpet in The Oriental Rug Gallery Ltd's custom-built Rug Cleaning Studios. The carpet was then placed in The Oriental Rug Gallery Ltd's Rug Drying Studio for four days and afterwards carefully 'buffed' and 'polished' by hand, with the 'pile laid out' in the direction of the weave.
"As Master Rug Craftsmen, The Oriental Rug Gallery Ltd is passionate about supporting and keeping alive traditional rug-weaving and embroidery-crafted skills, while helping to conserve and restore weaving heritage and craftsmanship. It is our pleasure to be able to offer The Oriental Rug Gallery Ltd's rug services and skills to help conserve St Christopher's antique carpet and, in the process, go some way towards helping to preserve our Town's wonderful heritage on display here at the church, for future generations to enjoy," said Anas.
Two weeks later, Anas and Sandre returned to St Christopher's and rolled out the newly cleaned and conditioned rare, antique Tabriz Carpet to gasps of joy from the Reverend Mary Bowden, Rector of Haslemere and Grayswood and the Church Wardens.
"Everyone at St Christopher's is delighted to see the carpet looking so beautiful, especially as Anas and Sandre have told us that the motifs and design represent a view of Paradise. We are so grateful to them for their generosity and sharing their rug skills and knowledge with us, to help enhance the beauty of our church," said a Reverend Mary Bowden.
For more information about our deep-wash rug cleaning works and services see: Deep-Wash Rug Cleaning & Stain Corrective Treatments and read about about The Oriental Rug Gallery Ltd's amazing 10-step RugRescue™ cleaning process.
St Christopher's Church listed Art and Crafts interior is open for public viewing on Wednesdays: 10am to 12 midday.