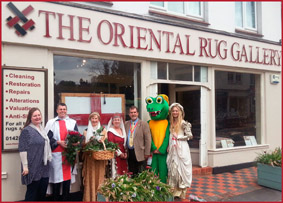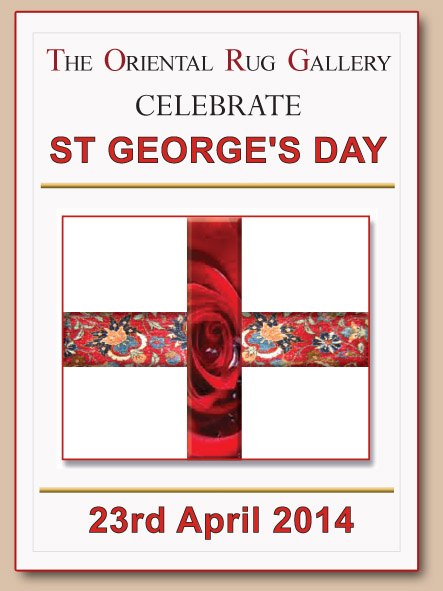 Here, Sandre also designed a St George flag illustration, which also displayed a rug warp and weft foundation configuration. The cross or warp and weft design blended one of The Oriental Rug Gallery Ltd's hand-woven pieces: an antique, rare Turkish 'Top Kapi' Rug, hand-woven in silk with delicate flora and fauna motifs on a madder root red background, with an image of a red rose – being the traditional symbol for St George.
The Oriental Rug Gallery Ltd's interiors continued the red and white theme in the specially chosen rug and oriental carpet displays hung on the Rug Gallery walls, with large vases of red roses perfuming the entire shop, for customers to enjoy as they visited.
Later that day, The Oriental Rug Gallery Ltd was visited by The Royal Society of St George Haslemere branch Chairman: Mr Nick Hinchliffe MstJ, Branch Secretary: Shirley Hankers and long-standing society members including Albert Hankers, accompanied by the Head of Woolmer Hill School with the Head Boy and Head Girl in tow. All were dressed in costumes displaying the traditionally-themed pageant of St George, the Dragon and the Maiden during their walkabout and visits in Haslemere, to highlight the Special Day, where Sandre and Anas were handed a beautiful red rose by the Maiden, to mark the occasion.
The Oriental Rug Gallery Ltd also received a letter from The Royal Society of St George thanking Anas and Sandre for their continued support and unfailing endeavours in helping to highlight St George's Day, with displays at their Rug Gallery through the years .