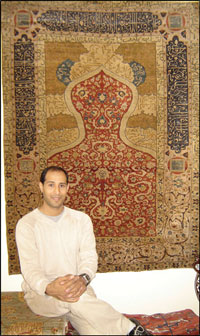 Anas, who is a fourth-generation Rug Specialist, Rug Dealer and Master Rug Craftsman, with nearly 30 years experience and specialist knowledge in the rug and carpet field, was able to identify and date the piece through his understanding of the weave construction, the knot type and the use of hand-spun silk. "This weaving is an extraordinary find! A rare and priceless piece, and one that I have been privileged to discover among others over the years at our Rug Gallery, here in Haslemere." said Anas.

The rug – a Top Kapi – is one of only five pieces still in existence around the world today, and is the most complete one of its kind. Top Kapi rugs were woven in the Sultan's court workshops in Ottoman Istanbul during the 16th and 17th centuries. Originally inspired by the classical Safavid Persian designs, they were hailed as masterpieces of their time. Another of these rare pieces is currently displayed in the Top Kapi Saray Museum in Istanbul, Turkey.

"A friend recommended Anas' expert Rug and Oriental Carpet Conservation Rug skills to us, after he had previously restored her antique Persian silk rug," said Mr Lawrence.

"However, we had no idea that our rug was worth anything until we brought it to The Oriental Rug Gallery Ltd to be cleaned and restored. To now find out that it's priceless is absolutely breath-taking, and it looks beautiful now that Anas has cleaned and restored it," added Mrs Lawrence.

The Lawrences also requested the Rug Gallery's Written Rug Valuation Service, so that Anas could record his detailed assessment of the rug, to ensure the family's inherited heirloom and investment piece is preserved and recognised for its value.

Article reproduced by kind permission of The Herald.