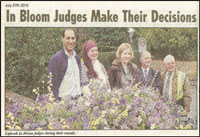 The week-long annual event attracts a large number of entrants each year, all keen to demonstrate their knowledge and creative planting skills in vivid, breath-taking displays. Liphook in Bloom were Britain in Bloom Winners in 2009, so competition was fierce.

The Judges spent the day touring Liphook and assessing the many entrants' plant and floral designs, and displays. Competition was fierce and the standards high. Points were awarded for a range of skills including presentation, technique and skill, in order to choose the overall Winners, as well as the silver and bronze runners-up in the 10 different plant and floral categories.

The Winners' names were kept a closely guarded secret by the Judges until the formal Presentation Awards evening held at The Millennium Hall in October later that year, where they and the silver and bronze awards and runners up were announced at a sold-out event.