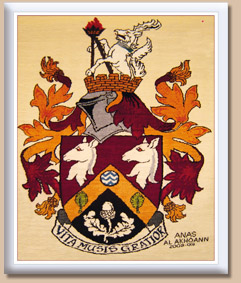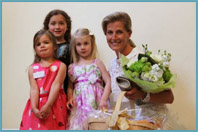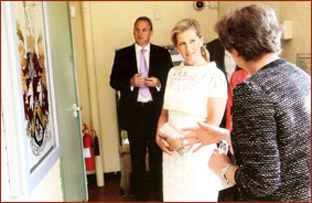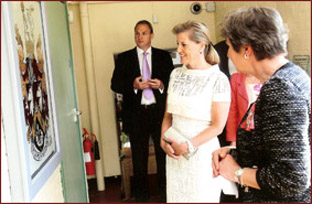 Upon arrival, The Countess was met by Dame Sarah Goad, Lord Lieutenant of Surrey, Dr Helen Bowcock, High Sheriff and the Mayors of Waverley and Haslemere and the latter's Town Clerk. The Countess was then presented to the Museum's President Bernard Coe and Chairman Melanie Odell MBE, who presented her to groups of people, including Anas and Sandre, while Curator Julia Tanner guided The Countess around the Museum's Galleries.
During her visit, HRH The Countess of Wessex viewed The Haslemere Coat of Arms Weaving. Here, she admired the skill and work involved in its two-year creation at The Oriental Rug Gallery Ltd by Anas and Sandre, and the Weaving's status as the first-ever hand-woven and rug-knotted Coat of Arms Rug Weaving on a traditional rug loom in the UK.
The Countess' interests in military and heraldic history ensured the weaving proved a fascinating topic for discussion, while chatting to Anas and Sandre, where she was also interested to hear about the rug weaving process and their Rug Specialist and Master Rug Craftsman skills.
The Countess works to support the 'Campaign for Wool', originally set up by HRH The Prince of Wales, which aims to promote the use of British wool, where Her Royal Highness was intrigued to hear of the 800,000 rug knots in this specially hand-dyed wool and silk weaving, and of Anas being a fourth-generation Master Rug Craftsman of a 100-year-old rug family business.
Afterwards, The Countess was invited to unveil a special brass plaque and sign the Museum's new Visitors' Book, where she was then presented with a bouquet of flowers and a selection of Museum gifts.This visit was the first to Haslemere Education Museum by a Member of the Royal Family. Everyone present recognised how much The Countess had enjoyed the visit in the way she chatted so warmly to all those to whom she was presented.
Speaking after the event, Melanie Odell said, "It was such a huge honour to have the visit from HRH The Countess of Wessex, particularly in our 125th Anniversary year and following the launch of our Museum in a Million Appeal. We are very grateful she found time in her very busy schedule to come and see us - it's an occasion we shall all fondly remember."
"Sandre and I were delighted to be invited to the Museum's125th Anniversary occasion with the honour of being presented to HRH The Countess of Wessex. The Countess' genuine interest in our Haslemere Coat of Arms weaving was an exceptional privilege and one we will always proudly remember," said Anas.
See:The Haslemere Coat of Arms Weaving to read about the Weaving's creation and its Journey of 800,00 Rug Knots.