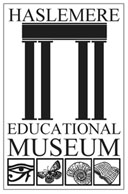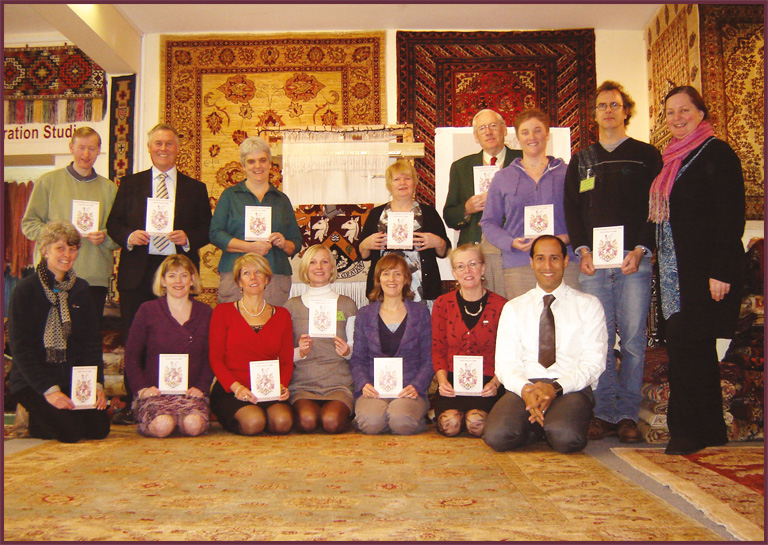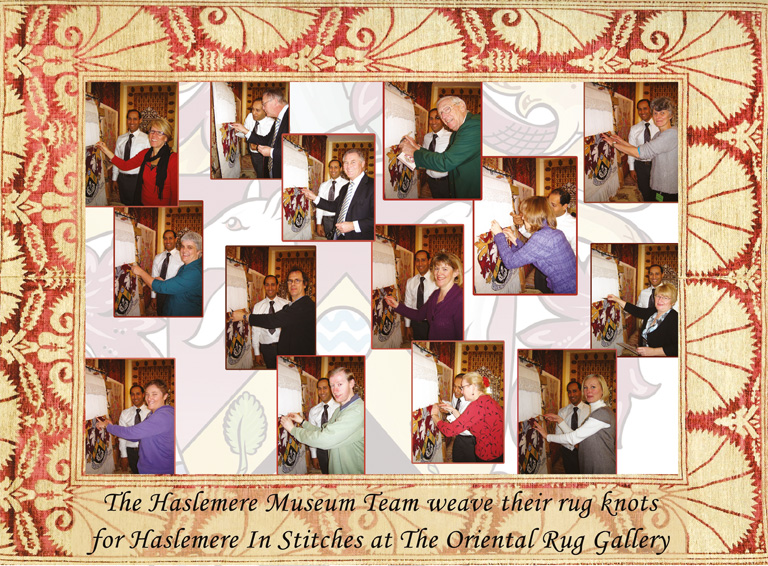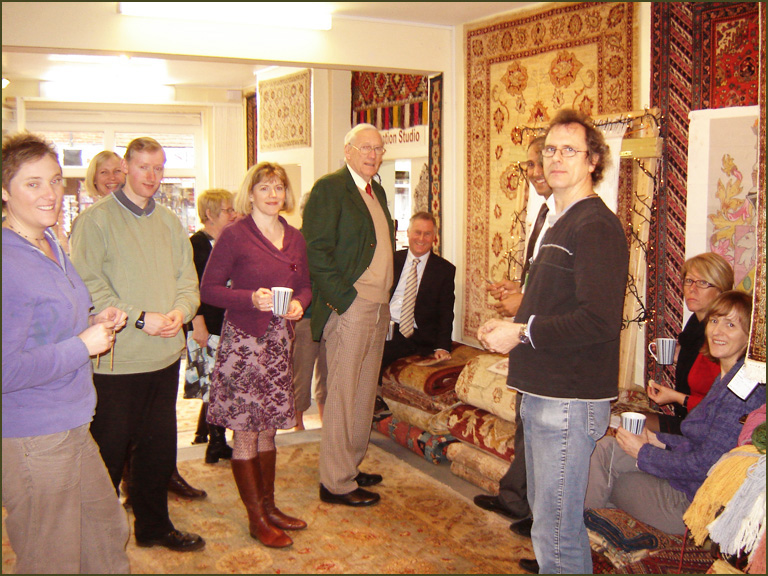 The 'Open Weave Event' is a 12-month endeavour especially devised by Anas and Sandre for the people of Haslemere, the surrounding districts and those interested in rug weavings. This free event is scheduled to be open until March 2010, where everyone can visit The Oriental Rug Gallery Ltd in Wey Hill, Haslemere and participate in the Haslemere Coat of Arms Rug Weaving's creation.
The Artisan duo hope to complete the UK's first-ever hand-woven and rug-knotted weaving in wool and silk on a traditional rug loom, involving approximately 800,000 rug knots, which all need to be individually hand-woven in either wool or silk yarns, in order to complete the piece.
With a warm welcome and Oriental delicacies and warm-spiced drinks handed round, the Museum team all took turns in weaving their individual rug knots into the piece, with a little help and gentle instruction from Anas - the Rug Gallery's Master Rug Craftsman. Upon completion each Museum Team member received a signed 'Certificate of Weave' acknowledging their rug knot participation, where a cross marking the appropriate placement of their rug knot was highlighted on an image of the Haselmere Coat of Arms, on the reverse.
"We are so pleased to welcome the Haslemere Educational Museum - the leading stalwart of the Town, and greatly appreciate the Team in taking time out of their busy Christmas schedule at the Museum, to visit The Oriental Rug Gallery Ltd and support our weaving endeavours," said Sandre
Haslemere In Stitches is a creative endeavour devised by Rug Specialist and fourth-generation Master Rug Craftsman Anas and Decorative Woven Arts Creative Sandre, who were jointly inspired by the Haslemere Coat of Arms motto: Vita Musis Gratior - "Life is more satisfying through the Muses or Arts" and the long Art and Craft and Peasant Art traditions established in Haslemere, in a bid to create a resurgence of interest in traditional rug weaving craftsmanship skills and drawing on Haslemere's Coat of Arms iconography to highlight the Town's heritage.
At present, the husband and wife team are busily working towards the completion of the Rug Weaving, which will be presented as a philanthropic Gift for Haslemere Town, while also highlighting their family rug business's forthcoming 100-year centenary in 2010.
Meanwhile, if you would like to participate in this unique rug weaving creation by hand-weaving a rug knot, please visit contact or visit The Oriental Rug Gallery Ltd, where we look forward to welcoming you!