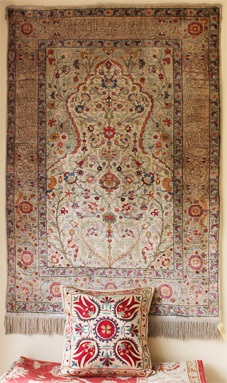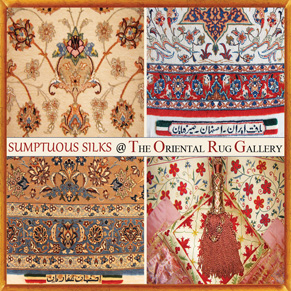 Our fabulous silk and silk and wool-mix collections of rugs, sumaks, kilims and Oriental carpets are all hand-woven by master weavers over many months and often years, using only the finest hand-spun silk and wool yarn in their creation. These exceptional pieces are individually sourced by us from the city rug-weaving workshops of Turkey and Iran, so that no two pieces are identical, adding to their uniqueness and future heirloom status.
As well as being items of great beauty, some of our rarer or older silk and silk-wool pieces are also signed – denoting the master weaver's skill and expertise, while adding lasting provenance to these superb investment pieces.
For inspirational gifts, our selection of hand-crafted and embroidered silk cushions are ideal as 'scatter' cushions or displayed as 'accent' pieces that will enhance any interior's décor and complement your existing soft furnishings.
Our unique and luxurious Silk Tassel Tie-Backs are individually crafted, using hand-spun silk threads that are first carded onto individual spindles, before being hand-woven on a traditional weaving loom. The Tie-Back 'body' is hand-crafted from either Walnut or Oak wood, which is turned and then shaped, using a traditional lathe.
With hundreds of hand-woven rugs and oriental carpets in stock to choose from, as well as our selection of hand-crafted soft furnishings, a 'signature piece' awaits to suit every taste!