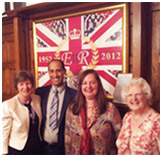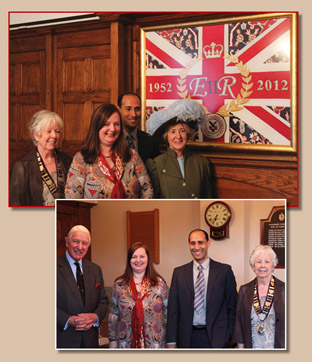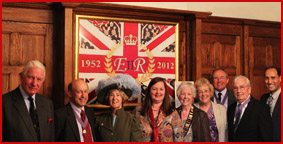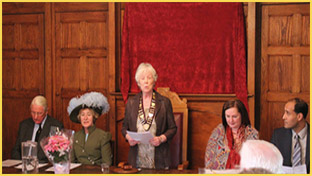 As well as a shared passion for all things hand-woven that is The Oriental Rug Gallery Ltd, Anas and Sandre's long-held, creative vision is to establish a philanthropic legacy of bequeathed woven and embroidered artworks. Thereby creating and producing works of decorative beauty that not only inspire, but also serve to highlight the preservation of heritage through traditional craftsmanship skills and, in doing so, create a rich and vibrant legacy for future generations to enjoy.
Here, Anas and Sandre were inspired to create a bespoke-crafted embroidery to encapsulate the Queen's 60-year reign, through using an eclectic mix of threads, textures, colour imagery and motif symbolism in its design, while showcasing an array of traditional and specialist embroidery techniques. This unique, bespoke commemorative Diamond Jubilee Embroidery took 13 months, from conception through to designing and crafting, and measures 1270 mm x 970 mm. Only the finest quality, hand-spun silk, metallic threads and hand-dyed, spun cotton threads were included in its creation, where all is meticulously embroidered onto a damask plain-weave, white linen ground.
Upon completion, the Diamond Jubilee Embroidery Queen's Gift continued its journey at The Honorary Unveiling and Formal Presentation Ceremony. This special occasion took place at Haslemere Town Hall on 22nd August 2012, where Haslemere Town Mayor Mrs Cyndy Lancaster presided over the honorary proceedings, with dignitaries, councillors and invited guests in attendance.
Prior to the The Honorary Unveiling and Formal Presentation Ceremony, a Special Dispensation had been granted, thereby allowing Anas and Sandre to bequeath their Diamond Jubilee Embroidery Queen's Gift to Haslemere Town Council to reside at Haslemere Town Hall, where they are now the proud custodians of this bespoke piece for and on behalf of Her Majesty the Queen, in perpetuity.
The Dispensation and bestowal was made in recognition of Haslemere's Mayors and Councillors in office, assisted by the Town Clerk, for their unstinting commitments and endeavours through the years, in working with and on behalf of the community, as the elected representatives for the Town.
"We hope the Diamond Jubilee Embroidery, now entrusted to the custodial care of Haslemere Town Council, will not only inspire, but also enrich the lives of its viewers through reflecting the pride of being a British Citizen with her Majesty Queen Elizabeth II as our sovereign, for many years to come," said Sandre.
You can read all about the Her Majesty The Queen's Diamond Jubilee Embroidery journey – from conception to completion, and its subsequent Honorary Unveiling and Presentation, on its dedicated web page at: Her Majesty the Queen's Diamond Jubilee Embroidery.