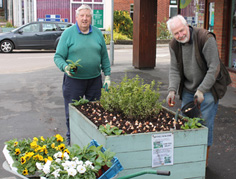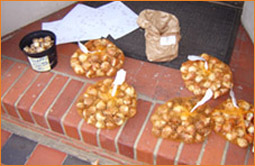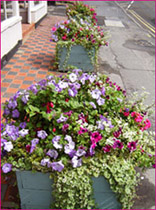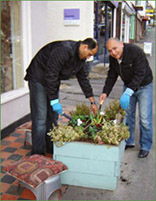 Money raised purchase bulbs, plants, compost and equipment needed for the replantings, and to help further improve and expand the planters and hanging basket displays along Wey Hill and Junction Place.
Over the years and with three WIB planters sponsored by The Oriental Rug Gallery Ltd, Anas and Sandre and their staff have organised their busy work-day schedules to don gardening gloves and tools, so that they can help plant out the twice-yearly bulbs and plant floral displays, alongside other WiB volunteers.
Throughout the planting-out days' activities, hot and cold drinks are offered to the hard-working WIB volunteers, courtesy of The Oriental Rug Gallery Ltd's kitchen, to help support their efforts.
Planting out preparations include: digging out any old or finished flowering plants, refilling and topping up the planters with layers of compost and mulch, and the planting of over 100 bulbs and plants each season as per the WIB's designated seasonal plant design layout. Once bedded in, the plants need continual care and maintenance with daily watering in and keeping them weed- and rubbish-free.
Everyone's ongoing efforts and endeavours are duly rewarded with the first sightings of newly-planted bulbs emerging during early Spring, and the vibrant bloom displays over-spilling the planters during the Summer and Autumn Seasons.