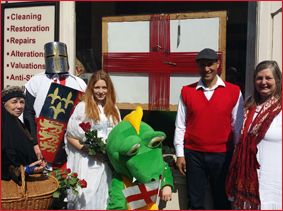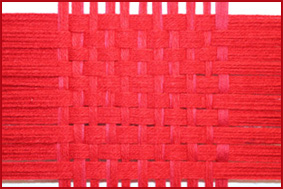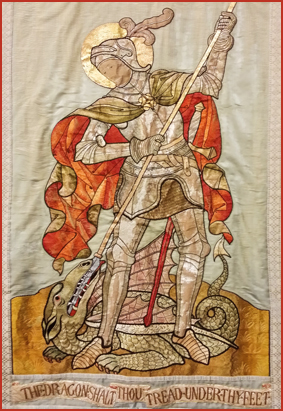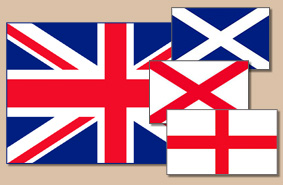 Originally created by Anas and Sandre in 2012, the St George Flag Weave has since become synonymous with The Oriental Rug Gallery Ltd's rug passion and continued endeavours to convey traditional rug weave craftsmanship in a variety of decorative artisan ways, while continuing to highlight the Arts and Crafts heritage of Haslemere.
Meanwhile, a rare Arts & Crafts heritage silk-embroidered piece (see left) celebrating St George's battle with the Dragon, showcases an exquisite array of skill and expertise in the handling of the finely-spun silk-weave background and the decorative overlay of thread, portraying movement, form and flowing script.
As England's patron saint, St George is an enduring and unifying symbol of modern-day, cross-cultural Britain, where St George's Day is also celebrated in countries including Canada, Bulgaria, Ethiopia, Greece, Portugal, Lebanon, Russia, Cyprus, Italy and Malta, to name but a few.
Born overseas to parents originating from Cappadocia in Turkey and Lydda in Greater Syria, he was a calvaryman in the Roman army, who died a martyr's death in 303AD. Immortalised in the tale of Saint George and the Dragon, he later became venerated as a Saint.
The St George's emblem was originally adopted by Richard The Lion Heart and brought to England in the 12th century, proving and enduring legacy of English heritage, where St George's Day is traditionally celebrated on 23rd April with a red rose, England's national flower.
As well as being England's national emblem, the St George Cross: a red cross on a white background also forms part of the 'counter-change of satires'on the Union (Jack) Flag of Great Britain. See our: HM the Queen's Diamond Jubilee Embroidery Gift creation, for information.
Anas and Sandre, resplendently attired in red and white, were joined at The Oriental Rug Gallery Ltd later that day by The Royal Society of St George and their colourful procession making its way along Wey Hill.
The Royal Society of St George Branch Secretary Shirley Hankers distributed red roses and was accompanied by Woolmer Hill School head boy: Andrew Chalmers and head girl: Abbey Williams, with Assistant Head Teacher: Mr David Clayton, arrayed as the Dragon, the Maiden, and St George respectively.