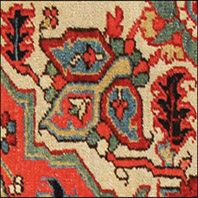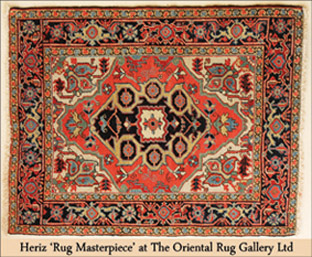 Sitting on rich copper reserves within the foothills of Mount Sabalan, Heriz produces a high quality, resilient wool containing traces of copper that act as a natural mordant and dye fixative, making this Heriz rug a durable, hard-wearing weave.
Displaying the distinctive Heriz geometric floral pattern, this hand-woven rug portrays a central medallion, spandrel embellishments and zig-zag contouring, set on an ivory field and surrounded with a rosette border.
The natural dyes of madder red, from deepest terracotta to palest coral, of indigo blue tones of inkiest midnight to lightest cerulean, with moss green and saffron soft-gold highlights, creates a subdued harmony of contrasting colourways that balance the angularity of this Heriz design.
Ideal as a focus piece, this unique and timeless Heriz rug looks at home in either a contemporary or traditional setting.
Hand-knotted wool pile on a cotton foundation. Size: 1.27m x 1.00m