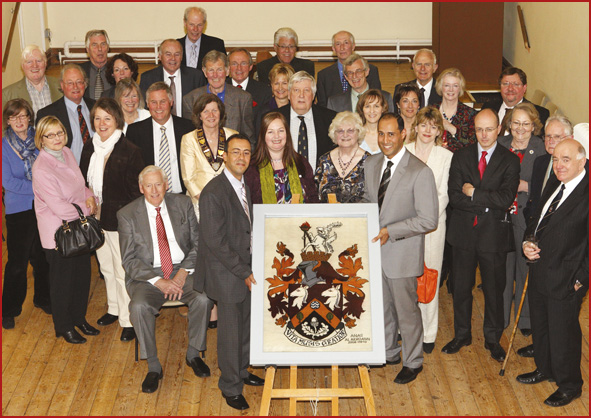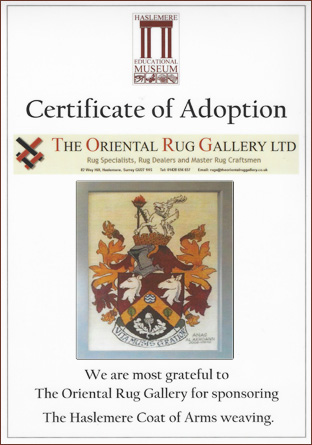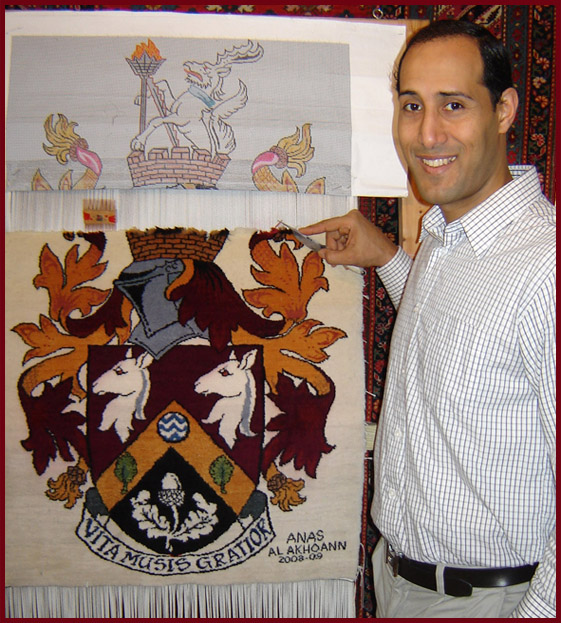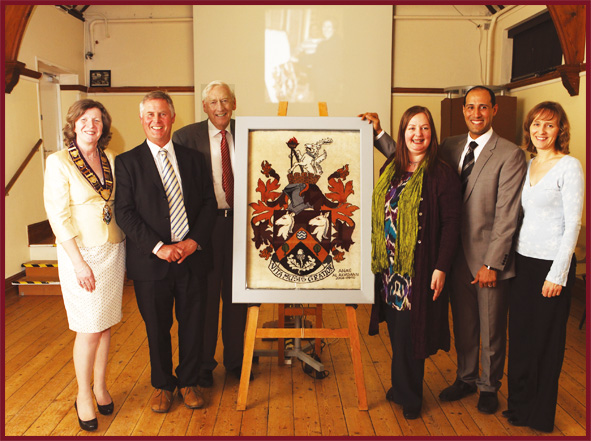 To celebrate five years of the Museum's custodianship of the Haslemere Coat of Arms Weaving, we are delighted to announce that The Oriental Rug Gallery Ltd has now formally adopted the Weaving, allowing us to help preserve a valuable and much loved unique asset in the Museum's collection. This latest collaboration serves to highlight our and the Museum's continued joint aims: the preservation of cultural heritage through conservation of craftsmanship and the custodianship of unique pieces.
As one of the oldest and most renowned independent museums in the country and with a vast and varied range of objects in its fascinating Collections, Haslemere Educational Museum is woven into the very fabric of Haslemere Town. The respected Custodians of Heritage,the Museum endeavours to preserve, conserve and educate all who walk through its doors so that they may marvel, wonder, and learn through its many artefacts either on display or archived, thereby fulfilling a vital and fundamental resource for the future preservation of our heritage.
As award-winning Rug Specialists, with more than 100 years' experience in the rug and carpet field, The Oriental Rug Gallery Ltd is dedicated to the very best in hand-woven weaving craftsmanship and passionate in conserving, supporting and keeping alive rug-weaving and embroidery-crafted skills.
The Oriental Rug Gallery Ltd's long-held, creative vision is to establish a philanthropic legacy of crafted and bequeathed woven and embroidered artworks that include the Haslemere Coat of Arms Weaving and The Diamond Jubilee Embroidery Queen's Gift. Thereby creating and producing works of decorative beauty that, not only inspire, but also serve to highlight the preservation of heritage through traditional craftsmanship skills, to create a rich and vibrant legacy for future generations to enjoy, while continuing to highlight and encourage weaving custodianship by our customers.
The Oriental Rug Gallery Ltd's initial collaboration with Haslemere Educational Museum began with our creation of the Haslemere Coat of Arms Rug Weaving, as a Gift for the Town in 2008, where the Museum became the official custodians of the Weaving, once completed. During the Weaving's two-year creation, Haslemere became the first-ever town in the UK to have its Coat of Arms hand-woven and rug-knotted in silk and wool on a traditional rug loom by a Master Rug Craftsman, where more than 1,600 people worldwide participated, by visiting The Oriental Rug Gallery Ltd and weaving a rug knot into the piece.