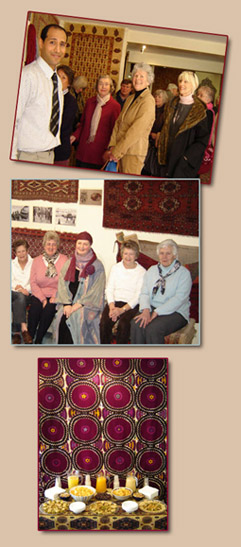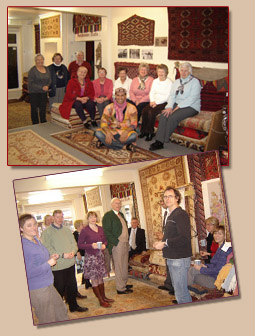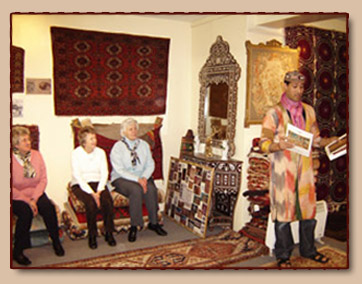 Drawing on their passion, inspiration and combined long-standing and specialist experience in the rug, oriental carpet and decorative weaving fields, Anas and Sandre invited rug enthusiasts, artisans, and those with a keen interest to know more about hand-woven pieces, on: 'A Journey of Weaves Across The Orient...'
During the evening's programme, guests travelled along the ancient Spice and Silk Roads and across the Rug Regions, with images, music and scent evocative of this age-old rug-weaving craft.
Here, Sandre and Anas, who could be found wearing authentic, traditional weavers' costumes on occasion, guided attending guests in learning about the rich, cultural heritage of traditional hand-woven rugs, and the diverse symbolism of tribal and decorative rug motifs and their origins.
Surrounded by The Oriental Rug Gallery Ltd's sumptuous treasure-trove of hand-woven decorative weavings, tapestries, tribal bags and embellished trappings, Guests also had the opportunity to explore individual pieces in more detail and learn more about their traditional weaving origins and decorations, from Anas and Sandre.
There were also opportunities to watch Anas' rug re-weaving and restoration demonstrations and see how these techniques are applied to damaged pieces in our Gallery's Repairs and Restoration Studio.
While, the Gallery's custom-built Cleaning and Stain & Corrective Treatments Studio proved a highlight during the evening's programme, where those present could watch our specially devised, professional RugRescue deep-wash cleaning system in action.
Attending guests were welcome to bring along their small pieces or photographic images and get a free, expert, verbal evaluation during the evening's event, by Anas - the Gallery's Rug Specialist and Master Rug Craftsman.
Guests enjoyed a delicious complimentary array of hand-made Oriental Refreshments during the course of the evening's event, while seated on Kilim cushions and authentic tribal stools arrayed around the Rug Gallery showroom.
All money raised, from these pre-booked and ticketed Talk & Rug Demonstration events, were donated to the Gallery's chosen charities.