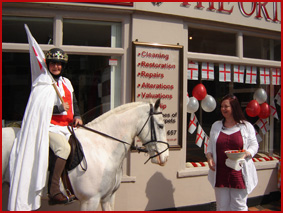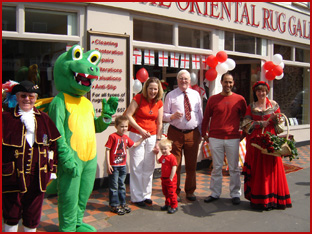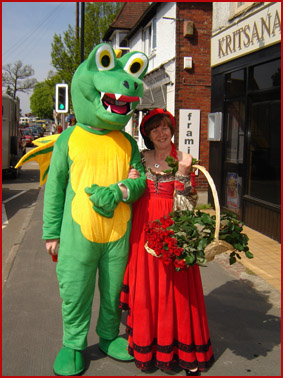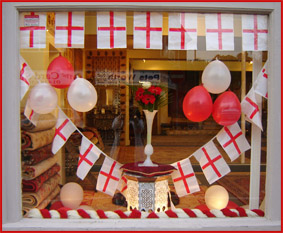 With The Oriental Rug Gallery Ltd's exterior bedecked in decorations and a large Rug Gallery interior window display in the traditional red and white colours of St George's Day, Anas and Sandre hosted a table laden with drinks and nibbles arranged outside of their Rug Gallery Shop in Wey Hill, Haslemere, where they warmly greeted the procession. Here, the food and drink continued the 'red and white' colour theme,and included delicious strawberries and cream, and hand-made red and white St George Cross cookies.
The sunny weather ensured that a good time was had by all, while enjoying the festive atmosphere at The Oriental Rug Gallery Ltd. A guest appearance by St George who rode astride his charger – a beautiful white stallion named Hector, who just so happened to love the strawberries being handed out! – gave an added colourful dimension to the day's celebrations.
Meanwhile, Anas and Sandre ensured that everyone had the opportunity to taste the delicious refreshments on offer, before the processional group continued winding their way along Wey Hill and through Haslemere.
Red Roses were given to Anas and Sandre as parting gestures, while the duo continued the St George's Day Celebrations, with visiting customers at their Rug Gallery.